How Does the 2022 Ford Explorer Compare Against the Competition?
Ford Explorer vs. Competitors
Today's families and outdoor enthusiasts need a vehicle that is versatile enough for daily driving and capable enough to handle whatever weekend getaways have to offer. Midsize SUVs, like the Ford Explorer, continue to be one of the most popular styles of vehicles because they check all the boxes for most drivers. It seems like every vehicle brand has a version of the midsize SUV to satisfy the demand, so Clifton drivers have the great problem of sorting through all the options to find the one that meets their needs the most.
Our team at Fette Ford is extremely knowledgeable about the current trends and offerings on the market. We've put together this deep dive to compare the Ford Explorer against a couple of its most popular rivals to help you sort through the specifications and capabilities. See for yourself which is best suited for your needs!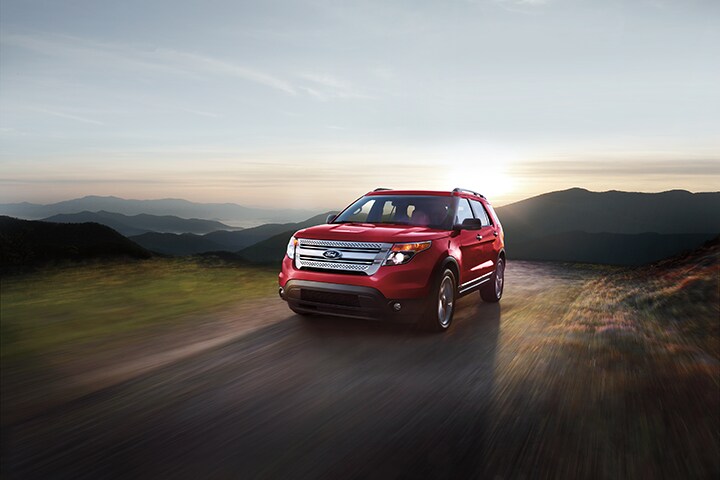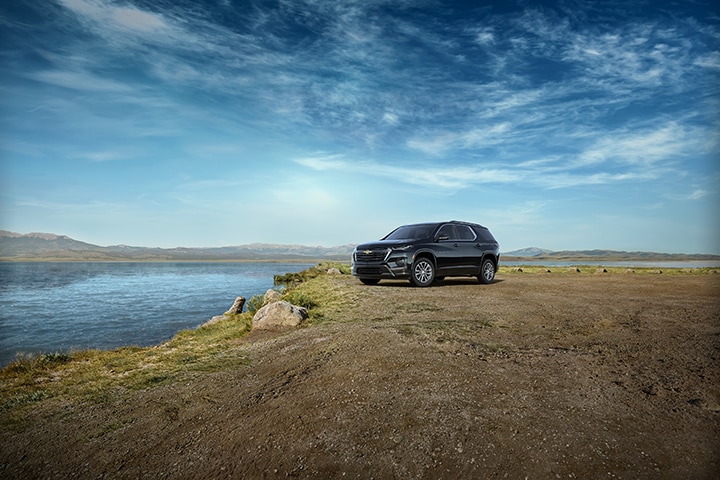 Ford Explorer vs. Chevrolet Traverse LS FWD

---
| | Ford Explorer | Chevy Traverse |
| --- | --- | --- |
| City/Hwy/Combined | 20/27/23 MPG | 17/25/20 MPG |
| Engine Power | 300 hp @ 5,500 rpm | 310 hp @ 6800 rpm |
| Engine Torque | 310 ft-lbs. @ 3,500 rpm | 266 ft-lbs. @ 2,800 rpm |
| Heated Seats | Standard | Available in other styles |
| Satellite Radio | Standard | Standard |
To make this comparison fair, we pit the base model Ford Explorer with rear-wheel drive against the comparative Chevrolet Traverse LS with front-wheel drive. Right out of the gate, the Ford Explorer takes the lead with a slight price advantage. You also get a lot of bang for your buck with an advantage in performance and fuel efficiency. The Ford Explorer produces more torque and has better efficiency across all three EPA measurements for fuel economy.
If you enjoy long drives and road trips, you will appreciate all the additional perks available in the Ford Explorer. Unlike the Chevy Traverse, which starts with a manual rear liftgate and seat adjustments, the Ford Explorer generously includes a power liftgate and eight-way power seat adjustments for no extra cost beginning at the base level trim. You'll also have access to five 12V DC power outlets in the Ford Explorer, whereas the Chevy Traverse only gives you two. Your passengers will also appreciate the extra inches in legroom in the Explorer to make every trip more comfortable.
You should never have to compromise on safety when driving. Your passengers and cargo depend on you having all the tools you need to keep everyone safe and avoid the most common types of accidents. Ford Explorers come equipped with Ford Co-Pilot360, a full suite of advanced safety and driver assistance features. The suite includes blind-spot monitoring and reverse parking sensors to keep you informed of your surroundings and avoid collisions. These features cost extra on the Chevy Traverse.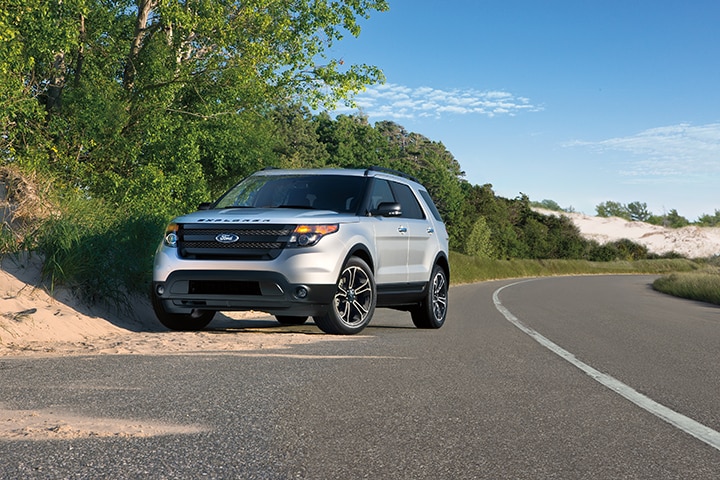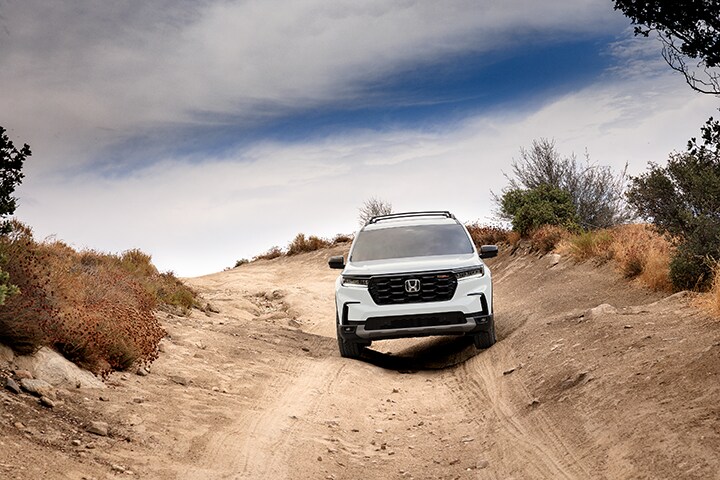 Ford Explorer vs. Honda Pilot Sport FWD
---
| | Ford Explorer | Honda Pilot |
| --- | --- | --- |
| City/Hwy/Combined | 20/27/23 MPG | 19/25/21 MPG |
| Engine Power | 300 hp @ 5,500 rpm | 285 hp @ 6,100 rpm |
| Engine Torque | 310 ft-lbs @ 3,500 rpm | 262 ft-lbs @ 5,000 rpm |
| Heated Seats | Standard | Standard |
| Satellite Radio | Standard | Available in other styles |
Another close competitor for the base Ford Explorer is the Honda Pilot Sport with front-wheel drive. Where the Ford Explorer and Chevrolet Traverse look similar on the outside, the Honda Pilot struggles to shake off its mini-van vibes. The entry-level Honda Pilot starts at a higher price and comes with fewer standard features than the base Ford Explorer.
The Explorer continues to impress with performance specs that blow the Honda Pilot out of the water. In every category, the Ford Explorer bests the Honda Pilot with more torque, greater fuel efficiency in all three EPA-rated categories, and superior 10-speed automatic transmission for quick acceleration and response.
The Ford Explorer also has more standard amenities than the Honda Pilot. Dual-zone automatic climate control and separate HVAC controls for rear passengers make a big difference to everyone's comfort on long trips. Unfortunately, the Honda Pilot asks everyone to make do with a single-zone manual climate setting and skimps on power features by making the front seats manually adjustable compared to the Ford Explorer, which treats the driver to an eight-way power-adjustable seat.
Blind-spot monitoring and a reverse parking system also cost more in the Honda Pilot, and you typically need to spend extra money to upgrade to a higher trim level for access to more features. Finally, the Ford Explorer continues to top the charts when it comes to passenger and cargo space for a more comfortable ride and more room for all your gear.
Ford Explorer for the Win
When you want to get the most for your money and find a midsize SUV that meets your needs, the Ford Explorer is the clear winner compared to the Chevrolet Traverse and Honda Pilot. The newest Ford Explorer is available at Fette Ford, and we offer a full-service dealership for all your Ford vehicle needs. Ask out team about placing a custom order so you can get your new Ford Explorer with all your favorite features!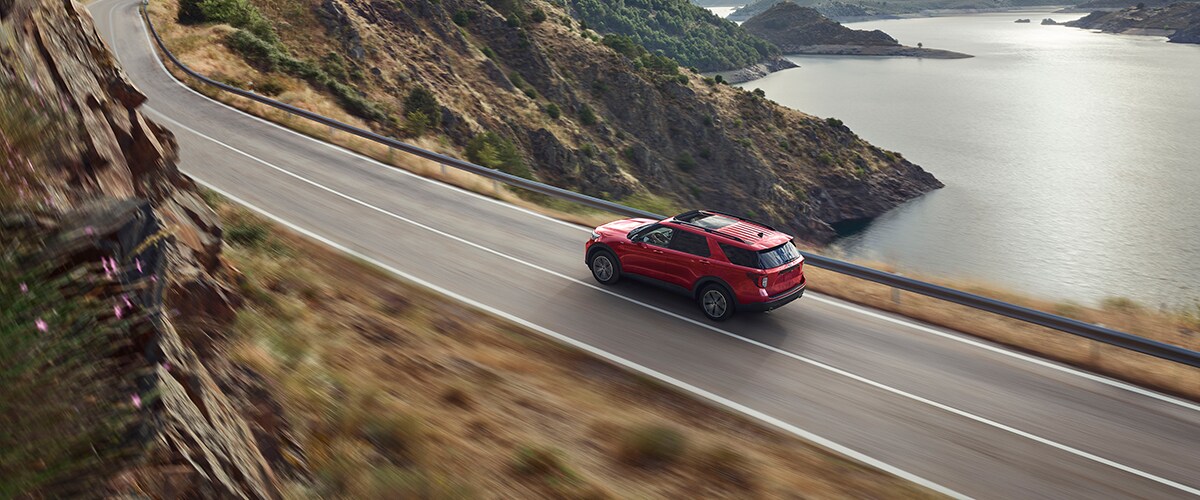 How can we help?
* Indicates a required field